Businessman and Politician, 
Dele Momodu
, in an article published on Friday, praised the "positive" developments in Nigeria in recent times, saying that "every disappointment they say is a blessing".
"While we are very sad that our President, 
Muhammadu Buhari
, has not been feeling too well for some time now and needs treatment and recuperation abroad, I now believe that God wants him to also have some time for sober and deep reflection," Momodu had written in the article titled 
Before President Buhari Returns Home
.
The good news, Momodu said, is that Acting President 
Yemi Osinbajo
 is "doing some of the things we expected and advised President Buhari to do."
"I do not want to over-excite anyone yet but this is smelling good, like the Americans would put it. We must enter special prayers and intercede with serious fasting so that President Buhari can continue along this path of progress when he returns to office, hopefully very shortly, by the grace of God," Momodu added.
An excerpt of the article also read:
Truth is Professor Osinbajo is re-navigating the country in the right direction and should be encouraged to do more by President Buhari. If a man discovers a snake and a woman kills it, it doesn't matter who did what. The glory ultimately goes to President Buhari for having the wisdom of entrusting Nigeria to such a loyal and dependable ally. Baba should ignore the demons of power who may wish to drive a wedge between them. Any parent or sibling would be proud of a child making the family great. This is what Osinbajo is doing and he should be commended and applauded for it….

…. When Baba returns, he should reach out more to Nigeria. Many people feel he has become too distant and a bit standoffish since achieving his dream of attaining power. I personally believe that this may not be the truth but perception counts a lot. When Baba comes back, he should be less acrimonious and reconcile Nigeria. Nigeria is haemorrhaging dangerously.  Prof Osinbajo seems to be waving a magic wand right now.  President Buhari will do well to own that magic wand when he returns and build on the progress made by his Vice President.  That is the essence of a good team. It is what Nigerians desire and what they deserve after the darkness that they have recently been plunged into.
After the article was published, President Muhammadu Buhari's Personal Assistant (Social Media), 
Lauretta Onochie
 took to Twitter to "Educate Dele Momodu". She wrote:
1. EDUCATING DELE MOMODU "Osinbajo is doing what Buhari failed to do" –@DeleMomodu

2. With a mindset like this, it's sad Dele Momodu is clever by half. If he does not understand "Team", how can he understand "Team Spirit"?

3. @MBuhari and@ProfOsinbajo have a great understanding of what it means to be a team. They respect, consult and collaborate with each other

4. Dele Momodu is used to d "Leaders behaving badly" ways of leadership where deputies do not dare breathe w/out d permission of d Principal

5. I have no doubt that Dele Momodu runs his Corruption-friendly business empire that way. He decides alone and consults no one.

6.Difference between Buhari/Osinbajo & Jonah/ What's his name, admins is not only their stand on corruption. One is a team, the other wasn't

7. Nigerians are applauding d cohesive team spirit existing between our leaders, Dele is using it to earn his keep from his corrupt friends.

8. It's common knowledge that under this admin, all businesses with foundation built on corruption, will collapse. Did I hear a loud OVATION.

9. As an image maker and a friend of the corrupt who raped our nation, has Dele Momodu asked where his fees are coming from? Stolen funds?
11. It's not lost on Nigerians that Dele Momodu helped to encourage corruption by providing an avenue for d corrupt to oil their corrupt ego.

12. Dele has taken a stand for corruption. He must now understand that our two leaders team spirit is stronger than his love for the corrupt.

13. Nigerians are learning again, that a President can delegate to the Vice so the benefit will go to all Nigerians, not just themselves.

14. Dele Momodu can no longer hide his disdain for d war on corruption. But joining accidental Social Media practitioners in this way is ill.

15. Nigerians are learning from a credible team that great respect, friendship, collaboration & consultations are possible between workmates.

16. Say "No' To Dele Momodu's divisive stance. It's selfish, self-centred & egocentric. He alone, stands to gain. END. Thanks for retweeting.
Momodu, on seeing the Tweets, responded Monday morning:
Good morning Madam. I've been flying so just reading your tirades and vituperations against me. You picked on a wrong customer.

It takes a complete ignoramus to comment on an article he/she has not read or understood; when & where did I separate BUHARI/OSINBAJO?!

I know you want to do what you're paid to do but if sent on a slave errand you should behave like a freeborn and know how to join issues!

I'm not a professional activist like you and so your opinion of me is complete fallacy; I freely supported Buhari bec PDP was no option!

You did not have to hide behind one finger to attack me; I'm not a member of APC in order to maintain my freedom of speech & association!

In my article, I praised Buhari for having a deputy like Osinbajo who obviously in our usual tradition couldn't do what he's doing now!

I said parents would be proud of a child who's upholding the family legacy; only mischief makers would get angry that I encouraged Osinbajo!

In fact you are the one getting angry and separating BUHARI/OSINBAJO just because I said something positive is beginning to happen!

What common-sense should I borrow from a rude person like you; where were you in 2015 when the GEJ guys attacked us like you're doing now!

Do you think I cannot advise BUHARI like I did to GEJ; my support was never a blank cheque and only a loyal friend will tell you the truth!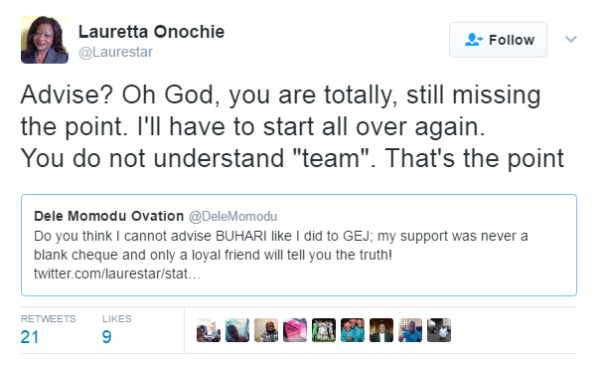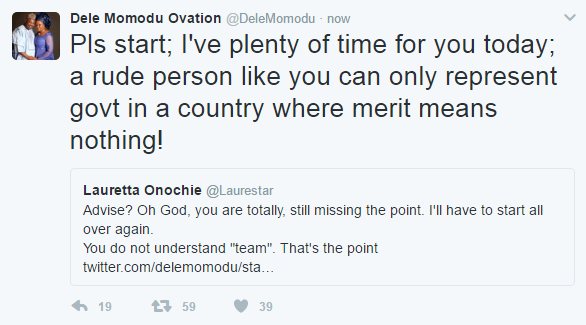 Then both parties kept silent.
(Visited 1 times, 1 visits today)